5% DISCOUNT OFF ALL ROOMS - BEST PRICES AVAILABLE

Drop In Club Resort offers budget accommodation in the heart of Haad Rin town, with easy access to both Haad Rin Nai and Haad Rin Nok beaches. All rooms come with Air-Con, private western bathoom, hot water and safety deposit box. The hotel is only a 5 minute walk to the Full Moon Party beach at Haad Rin Nok.

Haad Rin Nok is only one of three white sand beaches that lie on the west coast of the Haad Rin peninsula. Only a short walk across the peninsula you will find Haad Rin Nai which is far quieter than its counter part, with no clubs, a few chilled beach bars and plenty of great places to eat. The long stretching beaches on the west coast enjoy spectacular sunsets.

The town of Haad Rin has is home to a vibrant mix of friendly Southern Thai hospitality and Koh Phangan's unique party culture, creating a place and vibe that could only be found at the origin of the Full Moon Party. The event has bought the Island global notoriety and Haad Rin has become one of the biggest party centres in the world; attracting up to 30,000 people to the Full Moon Party at New Years Eve and 10,000 on an average Full Moon. The town has grown to accommodate these visitors and Haad Rin has a great variety of nightlife options. There are over twenty clubs and scores of bars dotted around the town.

The restaurant at Drop In has sea views and serves everything from traditional Thai food to fish and chips. There is a wide choice of Thai and Western foods. If you're looking to eat out, the area that surrounds Haad Rin Nai has become somewhat of a bohemian village with a great variety of craft, art and boutique shops and a host of different restaurants to choose from. There's Indian, Israeli or Italian, European, Euro-Asian, Mediterranean and loads more ' and then there is all the different Thai restaurants, ranging from the humble noodle stand to speciality Southern Thai seafood restaurants. There are also a few chilled bars that are great places to escape the masses on the other side of town.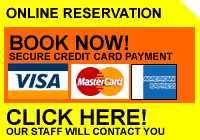 FACILITIES
Motorbike and Jeep Rental
Travel Booking
Internet and Email
International Telephone/Fax
Laundry Service
The Tantawan Restaurant serving Thai and Western cuisine
Bar
Supermarket
Exclusive Penthouse Suite
Safety Deposit Box
Spa with Jacuzzi, Herbal Sauna, and Massage
ACTIVITIES
Fishing Trips
Island Boat Trips
Scuba Diving
Snorkelling
Snooker
Kayaking
Waterfalls and Jungle Trekking