Situated in the South West of the island, Thong Sala is the main gateway to the island. Many travellers will arrive at the port of Thong Sala or Had Rin (from Koh Samui). On arrival you will be welcomed by many thais wanting you to stay at particular resorts. This is never a problem and can actually be very helpful if it during the full moon period when accomodation on the island becomes sparse.
GETTING THERE AND AWAY
Boats arrive on Thong Sala from Surat Thani and Donsak. Songserm Co. have two express boats per day, both stopping in Koh Samui, while Raja Ferries run the service to Donsak. For more information on Ferry times, other ports of arrival on Koh Pha-ngan and prices visit the getting there section.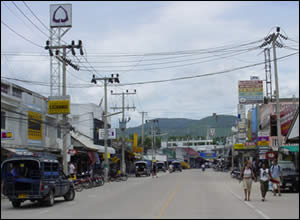 Getting to and from Thong Sala from most areas of the island is fairly easy as it is the main port and connected to the North and South East by concrete roads. Up to the North is Chaloklum, which is a safe ride on any type of transport. The roads upto the West can be a bit tricky, especially in the wet, but shouldn't be a problem for most people. The road east to Had Rin still has a highest fatality rate on the island and should not be attempted by inexperienced moped riders, especially on the full moon night when the traffic increases substantially and it becomes even more dangerous. The 17km journey up to Thong Nai Pan, which is a favourite for those seeking some quiet time for relaxation, is not so easy even for the experienced dirt bike rider - best to take a taxi for about 80-100 Baht.
Take a look at the road map for more information.
SERVICES AND LEISURE
There are many useful services in the town: internet shops, motobike rental, travel agencies, banks, post office.
Here is a list of our recommended and trusted services to help you make a good choice of which companies to use in Thongsala Town:
Thong Sala is also home to the only two Thai Boxing stadiums on Koh Phangan. There are two markets, the morning and evening market, where you can buy most supplies, fresh seafood, meat, fruit and vegetables.
SHOPPING
You'll find a good variety of shops in the main town center, where you can buy anything from Sunglasses and Suncream, Hammocks and authentic Thai Arts and Crafts.
If you have time take a look at BAMBOO ARTIST HOMEMADE SOUVENIR Shop - opposite Vantana's Restuarant - where you 'll find lots of bargains.
RESTAURANTS
Thongsala has a fine selection of restaurants, serving up good anything from Isaan, Thai, Italian and English cuisine. Most 'Farang' restaurants have specialities and also the usual Thai food. If you have time, try out the excellent Vantana's English Restaurant (this has always been a popular place and makes for a good meeting point) and The Anchor which has fresh coffee, both situated near Krung Thai Bank at the end of the old high street. Another great place to eat is the Phangan Steakhouse which is easy to find near the Evening Market and Thai Boxing Stadium.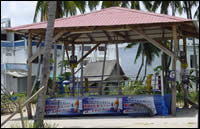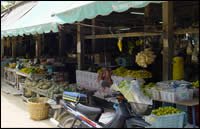 ACCOMODATION
Thongsala has the only hotel on Koh Phangan! There are also several guest houses situated along the main and old high streets which have attached restaurants and internet/travel services.
NIGHT LIFE
The night life is limited compared to Had Rin, but to name a few, there are the Long Shot Bar, The Frog and Frigate and the Beer Bar in the center and then also many late night drinking bars along the road from Thong Sala to Ban Tai.