| | | | | |
| --- | --- | --- | --- | --- |
| | | BAMBOO ARTIST - HAND MADE SOUVENIRS | | |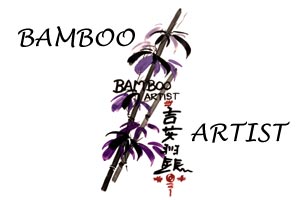 Whether you are looking for a good selection of high quality hand made art and crafts as a gift for yourself, relatives or friends; wanting to experience a relaxing massage in the comfort of a quiet air-conditioned room; or having your once in a lifetime tattoo/piercing as a the ultimate reminder of your Koh Phangan experience - conveniently placed in the centre of Thongsala, Bamboo Artist is the place to come and take a look around.

The original artistry style and skill of owner Aon cannot be found elsewhere on Koh Phangan island, and so popular are the drawings that they are sold in many other gift shops. Natural materials are used; all artwork is done on rice paper and drawn freehand using Chinese ink.
Although any design can be drawn on request, popular designs already completed include: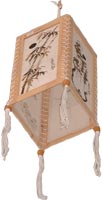 Bamboo
Full Moon Party
Dragon
Thai and Chinese Flowers
These designs are available on a whole range of gifts such as:
Rice Paper Posters
Wall Hangings and Banners
Table and Ceiling Lanterns
Notebooks
Neck and Head Scarves
Ornamental Fans
Cards and Postcards (Birthday, Marriage, Christmas, New Year, Blank)
Bookmarks
Photograph Albums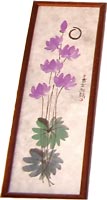 There are already many framed pictures available, but it is good to know that any of the original designs done on rice paper can be framed in wood and glass for you for a far cheaper cost than back home. There are a good variety of quality picture frames to choose from in all different sizes.
Bamboo Artist does not only produce and sell the original artwork from Aon, but also stocks an excellent range of other crafts in typical of Thai styles for you to browse through:
Jewellery (Necklace, Bracelets, Ear Rings, Wooden and Stone Beads)
Wind Charms
Beautifully crafted Chopsticks and other Table/Dinner Gift Sets
Carved Buddha, Elephant and other Sculptures,
Trinkets and other Carved Wooden Boxes
Ornamental Cloth Fans
Bags, Shoulder Bags and Purses
Conveniently, there is also a packaging service for all your purchases available on request, where you can even have your posters rolled up and safely housed in bamboo for protection.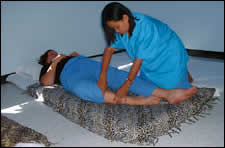 Take away your stresses, aches and pains with a relaxing massage in a quiet, clean, air-conditioned room. The massage is performed by a professional therapist trained in Bangkok Types of massage available are:
Traditional Thai Massage
Oil Massage
Foot Massage
Rates are charged by the hour. Maximum 3 people to one room.
THE BODY ART TATTOO STUDIO BY CHANE
For the ultimate reminder of your experience on Koh Phangan, contact Bamboo Artist for Tattoo by Chane. Relax on a comfy leather sofa and browse through hundreds of original designs or ask Chane to draw your own idea!
Also available is a body piercing service and a variety of body jewellery and other items for sale: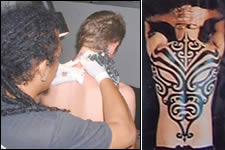 Wallets
Watches and Straps (repair service too)
Silver Jewellery (body, navel, nose, lip, ear, necklace, rings, ear-rings)
The items used for Tattoos and Piercing are guaranteed to be sterile.

Below is a map of Thongsala showing the location of Bamboo Artist and The Body Art Tattoo Studio, for a larger map of the island click on the Koh Phangan map to the right.