Laem Son lake is a popular place for both local Thais and Farang. During the hot months many people flock to the lake to cool down and relax under the shady trees. If you want to swim be careful; the rope line crossing the lake is only a guide, not a safety rope. Nearby, you'll also find a couple of rope swings.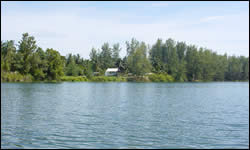 The lake is a protected area - so no fishing allowed.
WARNING
The rope line crossing the lake is NOT a safety rope; it will not save your life if you are in trouble.
It is recommended that only strong swimmers attempt to swim cross the lake.
Keep in mind that there are hidden plants under the surface of the water which are easy to get caught up in.
Always ensure that children swim supervised.