BEST WESTERN Phanganburi Resort is located on Haad Rin Nai, the quiet and serene sunset beach on the southern side of Haad Rin town; where all the action five minutes walk away at the famous party beach Haad Rin Nok, yet far enough from the resort to ensure you get a good nights sleep! This side of Haad Rin is well known for its peace and tranquility.

The resort boasts air-con accommodation with hot water, minibar, cable TV and computer with internet connection. There is also a fully equipped Health Spa, including herbal steam sauna, jacuzzi, traditional Thai and oil massage therapies to ease away those aches and pains from a long journey or the night before or simply relax by the beachfront swimming pool and soak up the sun!

Haad Rin Nai (west) is one of three white sand beaches that lie on the west coast of the Haad Rin peninsula. Here the occasional mangrove populates the coastline and the beaches take on a dreamy deserted feel, perfect for secluded sunbathing and sunset strolls. Tall coconut palms lean into the tranquil bay that is protected by the live coral reef, where divers and snorkellers find a wonderful variety of sea life and mesmerising corals.

Haad Rin Nai is far quieter than its counter part, with no clubs, just a few chilled beach bars and plenty of great places to eat. It is also in a great position to explore the other beaches on the Had Rin Peninsula; with the long bays of Ao Bangson, Ao Hin-Lor and Had Seekantang all on the sunset west coast; and of course Had Rin Nok, the Mecca for sunbathers, beach-sports and beach bars just five minutes walk away on the east coast.

There more 40 immaculately clean bungalows in three different styles to choose from, each with en-suite bathroom, hot water, mini-bar and satellite TV. All of the older style bungalows have been refurbished and are available for very reasonable prices. The more modern bungalows that are available are spaciously designed and decorated to a high standard - all come with large furnished balconies and tiled fitted Western bathrooms. These come in three distinct styles; Deluxe, Cottage and Suite.

Deluxe and Cottage are similar though the latter includes a mini-bar and special fittings and decoration throughout. Conveniently, Cottage rooms are available with a range of different bed configurations, including three single beds. The Suite on the beachfront with sunset facing views and larger than normal balcony has two double beds, wardrobe, special decorative fittings, TV and mini-bar.

The hotel rooms are spacious and decorated appropriately with all the required furnishings. These rooms come in 3 different styles; Deluxe, Cottage and Corner Suite, which differ in size, layout and location with the more expensive rooms larger and often with sea views. The hotel complex is situated around the second swimming pool.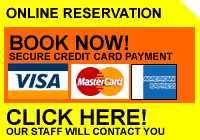 FACILITIES
Jeep Rental
Motorbike Rental
Travel Booking
Internet and E-mail
Laundry Service
Safety Deposit Box
Restaurant serving Thai and Western cuisine
Beachfront Bar
International Telephone/Fax
Computer and Wireless Internet Connection inside rooms 24 hrs.
ACTIVITIES
Fishing Trips
Island Boat Trips
Scuba Diving
Snorkelling
Kayaking
Waterfalls and Jungle Trekking
Beach Volleyball
Snooker
Badminton