We currently cannot offer online booking at Coral Bungalows.
We can recommend the following resort(s) as an alternative:

Starlight Haadrin Resort, prices 700 to 4200 THB and FMP Minimum Stay 5 Nights
Delight Resort, prices 1400 to 3500 THB and FMP Minimum Stay 5 Nights
Drop In Club Resort, prices 1490 to 8490 THB and FMP Minimum Stay 5 Nights
Blue Marine Resort, with prices from 850 THB to 2900 THB and FMP Minimum Stay 5 Nights
Full Moon Hill Resort, with prices from 1290 THB to 3290 THB and FMP Minimum Stay 5 Nights
Moon Paradise Bungalows, with prices from 550 THB to 3200 THB and FMP Minimum Stay 6 Nights
Thaidee Garden Resort, with prices from 1000 THB to 1500 THB and FMP Minimum Stay 4 Nights
Neptune's Villa, prices 1000 to 2500 THB and FMP Minimum Stay 5 Nights
Sea Garden Beach Resort, prices 600 to 2500 THB and FMP Minimum Stay 7 Nights
Venus Resort, prices 300 to 1500 THB and FMP Minimum Stay 7 Nights
Vimarn Samut Resort, prices 1250 to 6450 THB and FMP Minimum Stay 3 Nights
Blue Lotus Resort, prices 350 to 450 THB and FMP Minimum Stay 4 Nights
---
The Pool Parties will be organised 2 days before Full Moon, 2 day before Half Moon (Occasionally because it depends on no. of guests.), and 2 day before Black Moon.

Whether you want to spend your days exploring the amazing underwater world or simply relax in a hammock watching the tides come and go, Coral Bungalows provides you with every comfort you need to enjoy a beautiful and unforgettable stay in Koh Phangan. Moreover, there are many parties almost every night here, so it's an ideal place for party lovers.

Coral Bungalows is located on Had Rin Nai, an idyllic white sand sunset beach on the south coast of Koh Phangan near central Haad Rin home of the Fullmoon Party.

Had Rin Nai (West) is one of three white sand beaches that lie on the west coast of the Had Rin peninsula. Here the occasional mangrove populates the coastline and the beaches take on a dreamy deserted feel, perfect for secluded sunbathing and sunset strolls. Tall coconut palms lean into the tranquil bay that is protected by the live coral reef, where divers and snorkellers find a wonderful variety of sea life and mesmerising corals.

The resort offers a variety of good quality accommodations available at a range of prices to suit every budget. Featuring 40 convenient rooms, including 10 basic huts and 30 newly built duplex bungalows and apartments. The resort has been designed to fit into the natural surroundings with bungalows spread throughout the garden. The simple but well kept huts contain basic amenities, whilst the new more roomy apartments provide you with more comforts. All bungalows have private bathrooms, electricity and spacious balconies overlooking the garden or the beachfront.

The restaurant serves fantastic food and drinks and the friendly staff adds to the charm of the resort. It is open 08.00 - 22.00; the open-air dining venue features a beautiful beach front setting and offers a great variety of seating options. One area houses the main dining space and Corals beach bar, which is a mellow place to enjoy the company of new friends. The restaurant has a fun mixture of Thai and international food offering a great dining experience where guests can choose from an extensive menu and enjoy the taste of the freshly home cooked food. The menu includes breakfast and a variety of old classics like pasta, pizza and burgers, as well as favorite selections of traditional Thai cuisine.

Presenting a wide selection of spirits, beers and the best cocktails in Koh Phangan. The other section has a traditional Thai raised seating area inviting you to relax over a drink and enjoy the stunning sunset.

All accompanied by the fines of chill out tunes to create a unique atmosphere.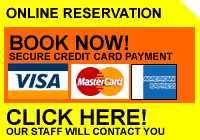 FACILITIES
Motorbike and Jeep Rental
Travel Booking
Internet and Email Shop
International Telephone/Fax
Laundry Service
Restaurant serving Thai and Western cuisine
Beachfront Bar
Safety Deposit Box
ACTIVITIES
Fishing Trips
Island Boat Trips
Scuba Diving
Snorkelling
Beach Volleyball
Badminton
Kayaking
Waterfalls and Jungle Trekking
Pool Party