**Holiday Beach Resort are now hosting a music festival every month called "Rhythm & Sands." It is a music festival started in New Zealand that is now extending to Koh Phangan. (2012: March 6th, April 13)**

Ideally located on Baan Tai, Holiday Beach Resort with its more than 160 meters of beach line and 51 bungalows is the largest resort in area. Now and always you can feel original Phangan ambience here - enjoying sun on our long sandy beach, chilling in the bar or just laying in the hammock under the stars...

You will never find it boring here on site kite surfing center, fire show lessons, massage point, cinema and parties on the beach all will help to make your stay with us exciting and unforgettable.

There are a variety of styles of bungalows for you to choose: from basic wooden garden-view fan bungalows to modern beachfront bungalows with all amenities: Air-con, mini-bar, TV, hair-dryer.

Here at Holiday Beach Resort, you get the chance to make friends from all around the world. Taste our Thai & International buffet, sea food, and BBQ at the beachfront restaurant with panoramic view of Koh Samui and the sound of Koh Phangan beach. Especially, we offer Full Moon Warm Up Dinner Party with various kinds of food and drink.

If you want to join one of world-famous island's party, from our resort you don't need to go far - few minutes taxi ride to the Half-moon and Black-moon, 15 minutes to the Full-moon, walking distance to the city center.

We see you here, where holidays never end...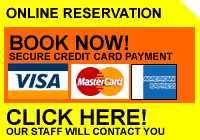 FACILITIES
Motorbike and Jeep Rental
Restaurant serving Thai and Western cuisine
Internet Cafe
Massage
ACTIVITIES
Trips around island
Island Boat Trips
Trekking
Kite Surfing
Fire Show Lesson
Pool Table