Sandy Bay was one of the first resorts on Haad Yao, welcoming its first guests way back in 1985. The friendly and efficient family run business quickly earned a reputation as one of the best resorts on Phangan Island, set amongst some of the most beautiful scenery the island has to offer. Sandy Bay's gardens have matured over time, providing beautiful and lush surroundings, perfect for enjoying your own piece of paradise on this most idyllic of Koh Pha Ngan's beaches. The resort had been planned to provide a peaceful and natural environment for its guests under the shade of tall coconut palms, with every possibility covered to ensure your stay is the best you could have.

Had Yao, or "long beach" is amongst the top three beaches on the island, and the most popular on the sunset side of Koh Pha Ngan. It has a one kilometre stretch of white sand that is wide enough to play football on, great swimming, sunset views and more than enough space to allow for it's ever expanding popularity; many consider it the "perfect" beach. Had Yao has developed over the years in harmony with the beautiful surroundings, retaining its natural splendor and laid back vibe that drew the first travellers here. Sandy Bay has been a great influence on the development of the area, building to high standards whilst embracing the nature that surrounds the resort.

Since the turn of the millennium, the old palm leave huts have been replaced with new bungalows in a range of styles and budgets; all with fan and private bathroom and some with air conditioning and hot water. All have sea views and with their years of experience in the hospitality trade, Sandy bay have designed the bungalows with the guests best interests considered; fitting mosquito screening on their doors and windows, providing spacious rooms and balconies and finishing the bathrooms to hotel standards. Most of the bungalows are right on the beach, and those that aren't still command excellent views as they are set in the small foothills that look over Had Yao.

The Sandy Bay Restaurant is well known to be one of the best on Had Yao, serving exquisite Thai and Western cuisine at affordable prices. The extensive menu covers everything from swordfish steak to pizza, and the restaurant also specializes in a variety of traditional Thai dishes, rarely seen on other menus. A tantalizing daily selection of fresh seafood is available and regular beach barbeques provide a great way to mix with other guests.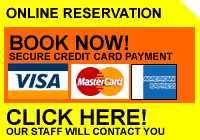 FACILITIES
Motorbike and Jeep Rental
Travel Booking
Internet and Email
International Telephone/Fax
Laundry Service
Restaurant serving Thai and Western cuisine
Bar
Safety Deposit Box
ACTIVITIES
Fishing Trips
Island Boat Trips
Scuba Diving
Snorkelling
Beach Volleyball
Kayaking
Waterfalls and Jungle Trekking