Do not believe anything because it is said by an authority or it is sid to come from Angels or from Gods or from an inspired source.
Believe it only if you have experienced it in your own heart and mind and body and found it to be true.
Work out your own path through this world with diligence.
Buddha
JUNGLE GYM & HEALTH CAFE

Tel: 077 375115
Website: www.junglegym.co.th
The Jungle Gym offers a full range of weights and cardio equipment. Classes available include beginner to advanced fighters in Muay Thai, Gracie Brothers trained Brazillian Jiu-Jitsu, power yoga and belly dancing workshops. Jungle Gym has a fully equipped fitness centre located in Haad Rin and a secondary centre in Haad Thian (east).
THE SANCTUARY - ALTERNATIVE HEALING RESORT

Tel: 08 1271 3614
Website: www.thesanctuarythailand.com
The Sanctuary is an alternative island resort located on the secluded east coast of Koh Phangan. They were the island's first ever retreat offering daily Yoga, Yoga teachers training, meditation, a variety of healing, healthy & natural therapies, spa massage, funky herbal steam room, over 300 vegetarian and seafood dishes and great accommodation.
AGAMA YOGA

Tel: 08 9233 0217
Website: www.agamayoga.com
Agama Yoga, as authentic Tantric Yoga school based on Koh Phangan, holds daily drop-in classes (250 Bht - first day free) and month-long certificate course intensives, in a retreat-like, supportive atmosphere. Contact us for more details about our unique study opportunities and immersion workshops.
ANANDA RESORT: YOGA & DETOX CENTER

Tel: 08 1397 6280
Website: www.anandaresort.com
Ananda Wellness Resort offers accommodation, detoxification programs, massage, salt water pool, free WiFi, a restaurant featuring vegetarian and vegan food and stunning sunset views over the bay. Ananda offer individualised and time proven detox and purification programs that integrate with a combination of all the levels of Agama Yoga School. Detox Programs range from 3½ days to 11 days using purification methods in addition to a daily yoga class; and may also include Candida management and parasite removal where required.
SIAM HEALING CENTER

Tel: 08 9965 8752
Website: www.kohphanganthailand.com/health-spa/siam-healing-center.htm
Massage courses by professional instructor. Massage treatments: Thai, Oil, Foot (Reflexology), Sports and Health Retreats. Yoga classes include Pranayama and Meditation, Hatha Flow, Ashtanga Style. Once every month before Full Moon day, come to relax, learn and get pampered by; Her Only & Him Only Programs. Please feel free to contact them for more information.
WAT KHAO TAM - BUDDHIST MEDIATION CENTER
".....The path of meditation and mental development must be treated as a whole; that is, it must help to nurture a person's development on all levels and not be fragmented into emphasis being placed on only some aspects of the human mind....."
Wat Khao Tam is not actually a true Temple (Wat) as there are only a couple of monks in residence. Despite this there is chanting and mediation every day in the morning and early evening at 6am and 6pm. Anyone interested is welcome to come and share the experience.
A spectacular sunset viewpoint can also be reached at the top of the mountain where you can cast your eyes up and down the southern coast of Koh Phangan and out across the sea to the distant island of Koh Samui.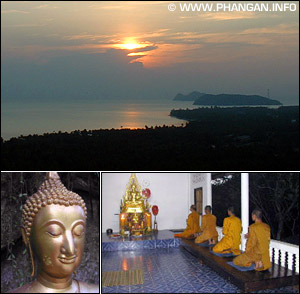 The temple also serves as a Buddhist Meditation Center in the Theravadin tradition, and most months of the year an American-Australian couple lead 10 day meditation retreats. The retreats taught at the center are designed to help one develop Vipassana or Insight into Reality. Vipassana is an ancient Indian Pali work. It does not mean a specific technique, but the resulting Insight and Wisdom which comes from skillful means, aiding one to understand the underlying characteristics of: mindfulness; moment to moment awareness; concentration; the investigative quality of clear comprehension to discover the deeper laws of cause and effect, and dependent arising nature of body and mind; unselfish emotions such as, Compassion, Lovingkindness, Sympathetic Joy and Equanimity, which help to transform one's intentions, develop one's emotional well-being and help evolve the mind sufficiently so it is capable of Understanding; and Yonisomana-sikara, or Wise Reflection, which helps to develop the faculty of analytical investigation into the deeper trusts and laws governing the body and mind.
The fees to join a retreat change, for the latest information you can either visit the website at http://www.watkowtham.org, visit Wat Khao Tam and read the bulletin board or write in advance to Wat Khao Tham, Koh Pha-Ngan, Suratthani, 84280, Thailand.
WAT PHO - SAUNA & HERBAL BATHS
Relax and enjoy the many great benefits of a traditional herbal steam sauna where natural herbs like lemongrass are heated by a log wood fire to create the steam that is filtered into the sauna.
Whether you've been partying too hard or just feeling like doing something good for yourself then this is the place to come!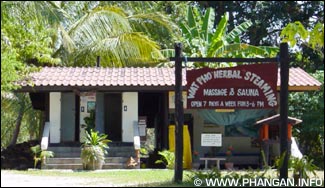 The herbal system has many health benefits for the body, from helping to reduce high colestoral levels to improving skin conditions such as dry skin and ezcyma.
The sauna is open 7 days a week from 3-6pm