The Village Green Restaurant and Bar has been making waves on the west side of Koh Phangan ever since its doors opened in June 2002; with a truly diverse menu and experienced chefs cooking up gourmet European and Thai delights. Within a short space of time the restaurant has gained a great reputation and it is already considered amongst the top places to eat on the island, with delicious food coming in hearty portions at very reasonable prices.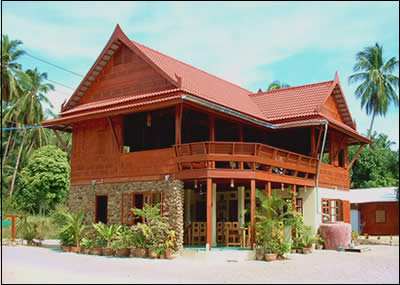 The menu features dishes from around the globe, with everything from full English breakfasts served all day, to Crocodile and Rib-Eye steaks, there's also a wide variety of vegetarian dishes. The Village Green has an extensive choice of freshly made pasta dishes and pizzas, doorstep sandwiches and giant baguettes; all made with imported cheeses, salamis and other ingredients that you thought you'd never see on Koh Phangan. The Thai food is all fairly priced at around fifty Baht a dish and a huge plate of enchiladas or tacos with real sour cream and guacamole is only one hundred and twenty Baht.
The Village Green has a Saturday night party, with special offers on drinks and DJ's playing Deep/Old Skool House, funk, reggae and rare grooves. The restaurant also has modern barbeque facilities, so they can fire up whenever you wish and cook up anything you fancy, including fresh fish and seafood, steaks, real sausages, vegetable kebabs and loads more.
The two-story Thai style restaurant has been designed in harmony with the natural surroundings, with cool breezes flowing throughout the building, eliminating the need for air-conditioning and providing dining in comfort with stunning sunset views. The lower floor has distinctive river-stone rock walls and includes a dining area, open kitchen and some of the best toilets seen in Thailand. The upper floor is constructed in beautiful tropical hardwood with a spacious open dining area, giant tables for big groups, a traditional bar and a large balcony looking over the bay.
The Village Green Restaurant and Bar is on the main road behind Sea Flower Bungalows on the spectacular beach of Ao Chao Phao that forms part of the sunset chain of beautiful coves that populate the west coast of the island. The broad white sand beach is nearly one kilometre long, flanked by lush forest and smooth boulders presenting the perfect image of paradise. The bay is deep enough to swim in year round, and the rich coral reef is a haven for marine life, making it amongst the best dive and snorkelling spots on the island. Wang Sai waterfall is within easy reach and Laem Son is a popular freshwater lake just 300 metres away, shaded by tall pine trees with giant rope swings!
Ao Chao Phao is located between Had Yao and the fishing village Sri Thanu. It is about 15 minutes drive from Thong Sala the main port or 10 minutes from Chalokum on the island's newly completed concrete road network; all approaches to Ao Chao Phao are on flat surfaced roads. Car and boat taxis regularly go to Ao Chao Phao from Thong Sala and it can also be reached by boat taxi from Chaloklum pier.