Phangan Travel has been helping travellers make the right decisions for over twenty years, making it one of the longest running and reliable travel agents on the island. The friendly and dependable staff all come from Koh Phangan yet started their careers in Bangkok, thus you can rest assured that they have great local knowledge with all the professionalism, contacts and deals that the biggest Bangkok offices can offer.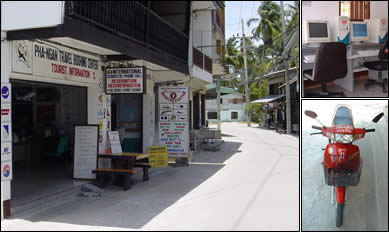 Phangan Travel are known have the best booking facilities on the island and are TAT approved travel agents (Tourist Authority of Thailand #33/0412), a rarity on Koh Pha Ngan. All international and domestic flights are booked in real time on ABACUS, the largest computerised reservations system in Asia Pacific, giving you the best flight deals and immediate reliable conformation. Phangan Travel also have a vast choice of local and national tours, whether you want to climb Koh Pha Ngan's highest mountain or ride elephants in Chang Mai.
Phangan Travel are equipped with a fleet of new mopeds, jeeps and mountain bikes available for long or short-term rental at very reasonable rates. They also have some of the best Internet facilities on the island at the lowest rates possible. All the computer equipment is no less than a year old and only the fastest connections are used. Phangan Travel are one of the island's most trusted agents for Visa extensions, applications and offer a help service for travellers who have lost their passports.
Visa Extension and Work Permit Application
Internet
Copy
Print
Laminate
Scan
Money Exchange
International and Domestic Call
Collect Call
Diving
Snorkel equipment Hire
Accommodation Reservation
Laundry
Safety Locker (Had Rin)