The Chinese Temple exists today because of the faith of one woman - Mrs Malawan. Years before in 1990, when Koh Pha-Ngan was still largely without electricity, Mrs Malawan came to Sangthom Temple on Koh Pha-Ngan from Bangkok for the ceremony of presenting the robes to the priests (Todkathin). During one night, sleeping outside with friends, Mrs Malawan dreamt about the Chinese Buddha, Jaomae Kuanim. The Buddha told her to build a firelight for the people.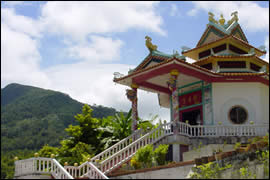 With intent to fulfill the requests of the Buddha, Mrs Malawan returned to Bangkok to raise the funds necessary to build the Temple. Building was completed in 1992, and continues today.
Now the Chinese Temple is a place where many people come to try one's luck or trust in luck. There are three main festivals during the year which are special for the Chinese Buddha: January, May and August. Every year during these periods, people come to the Temple to show their faith and ask for blessing.
The Chinese Temple opens at 8.00am until 5.00pm.