".....The path of meditation and mental development must be treated as a whole; that is, it must help to nurture a person's development on all levels and not be fragmented into emphasis being placed on only some aspects of the human mind....."
Wat Khao Tam is not actually a true Temple (Wat) as there are only a couple of monks in residence. Despite this there is chanting and mediation every day in the morning and early evening at 6am and 6pm. Anyone interested is welcome to come and share the experience.
A spectacular sunset viewpoint can also be reached at the top of the mountain where you can cast your eyes up and down the southern coast of Koh Phangan and out across the sea to the distant island of Koh Samui.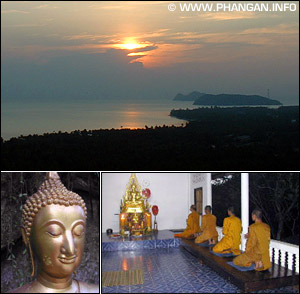 The temple also serves as a Buddhist Meditation Center in the Theravadin tradition, and most months of the year an American-Australian couple lead 10 day meditation retreats. The retreats taught at the center are designed to help one develop Vipassana or Insight into Reality. Vipassana is an ancient Indian Pali work. It does not mean a specific technique, but the resulting Insight and Wisdom which comes from skillful means, aiding one to understand the underlying characteristics of: mindfulness; moment to moment awareness; concentration; the investigative quality of clear comprehension to discover the deeper laws of cause and effect, and dependent arising nature of body and mind; unselfish emotions such as, Compassion, Lovingkindness, Sympathetic Joy and Equanimity, which help to transform one's intentions, develop one's emotional well-being and help evolve the mind sufficiently so it is capable of Understanding; and Yonisomana-sikara, or Wise Reflection, which helps to develop the faculty of analytical investigation into the deeper trusts and laws governing the body and mind.
The fees to join a retreat change, for the latest information you can either visit the website at http://www.watkowtham.org, visit Wat Khao Tam and read the bulletin board or write in advance to Wat Khao Tham, Koh Pha-Ngan, Suratthani, 84280, Thailand.