Relax and enjoy the many great benefits of a traditional herbal steam sauna where natural herbs like lemongrass are heated by a log wood fire to create the steam that is filtered into the sauna.
Whether you've been partying too hard or just feeling like doing something good for yourself then this is the place to come!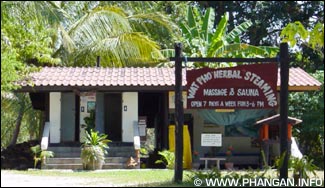 The herbal system has many health benefits for the body, from helping to reduce high colestoral levels to improving skin conditions such as dry skin and ezcyma.
The sauna is open 7 days a week from 3-6pm