Delight Resort is situated in central Haad Rin overlooking the lake. Only a few footsteps from your room you will be able to enjoy the legendary Haad Rin Nok Beach, home to the Full Moon Party and all the conveniences of local shopping, restaurants and clubs.

At Delight Resort there are four different styles of room to choose from with en-suite bathrom, air-conditioned system, hot an cold water, min-bar and satellite TV options:

4 Exclusive rooms
14 Deluxe rooms
18 Superior rooms
8 Standard Rooms
8 Economy Rooms

Enjoy the lovely atmosphere and delicious food at the restaurant, offering a wide selection of Thai Food, a fresh daily Seafood Barbecue, and International cuisine. Delight Resort also has the cocktail bar where you will find a variety of drinks to tempt your tastebuds.

The swimming pool with its pool-side bar is a great place to chill-out, read a book, or enjoy the sunset over the adjacent Haad Rin Lake with a sundowner cocktail.

Delight Resort also offers you a traditional Thai massage service, outdoor swimming pool, internet service, fax and overseas calls, and many more facilities. To make your holiday even more easy going there is a clothes and souvenir shop, a Kodak Express Photo developing service and a book store just next door.

Come to see the nightlife and join in the party; you'll be Delighted!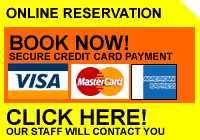 FACILITIES
Motorbike and Jeep Rental
Travel Booking
Internet and Email
International Telephone/Fax
Laundry Service
Restaurant serving Thai and Western cuisine
Safety Deposit Box
Swimming Pool
Cocktail Bar
Clothes Store and Souvenir Shop
Kodak Express Photo-Developing Service
Book Store
ACTIVITIES
Fishing Trips
Island Boat Trips
Scuba Diving
Snorkelling