Black & White Bungalows, located at the heart of Rin sunset beach ( Haadrin ) of Phangan island, Suratthani. A perfect place for your relaxation, safe and privacy. It's the only place you can experience the natural phenomenon where you can't find from anywhere in the world.
the place where sun and moon rise and set in the same place
the world famous place where the sun and moon named to be the most beautiful place, of which the so called "Full Moon Party" held every month
Black and White Bungalows, reasonably priced, clean and fully equipped with all you need such as private bath room, warm-water machine and your own balcony. Natural air or air-conditioned rooms of your choice to choose from. Safe box, Satellite TV, refrigerator with free complimentary drinking water equipped in all air-condition room. Moreover, laundry , computer and WiFi internet is also provided.

Black & White Bungalows is your most comfortable and convenient place to stay because it takes only 5 minutes walk to and from the Rin beach ( Haadrin ) and bungalow and more.

1. Close to Full Moon Party beach, the center for shopping, food parlors, banks and currency exchange center.
2. White sand beach and crystal clear sea water perfect for swimming, sun bath and natural explorer.
3. Beach and water sports all day and night.
4. Savor the moon shine, drink, dance and listen to music on Rin beach ( Haadrin ) at night.
5. Close to the Rin beach ( haadrin ) to Koh Samui pier, comfortable for all travelers.

Moreover, passenger car and motorbike is ready for your services on your own such as:
to Half Moon Party and Black Moon Party, only 20 minutes away.
to International pier at Thongsala, only 30 minutes away.
Sightseeing for a group tour in one day, jeep or motorbike rent on your own around Pha-Ngan island.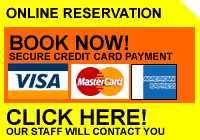 FACILITIES
Internet and E-mail
International Telephone/Fax
Safety Deposit Box
Motorbike Rental
Laundry Service
ACTIVITIES