**Guest stay in The Cliff Bungalow on Sunday or next day after Full Moon night has to accept for any noise from the party nearby without any compensation.**

Coco Hut offers supreme air-con and fan accommodation on the tranquil paradise beach of Haad Leela. The resort has a wide-range of accommodation so suit most budgets; there are cheap guesthouse fan rooms or top-end beachfront air-con bungalows with all the mod-cons including mini-bar, UBC TV and hot water, and also an excellent choice of bungalows on hillside allowing guests to relax and watch the spectacular sunset from their balcony.

The resort has over 100 metres of beachfront on one of the most popular beaches on the island. Haad Leela beach has long been a place of tranquility and only a stone's throw from the main beaches and town of Haad Rin.

Haad Leela is also known as Haad Seekantang among the Thais, is about 15 minutes walk from Haad Rin town centre. It's a long white sand beach that is fairly thin in places and has a rugged appeal. Due to its secluded location, the beach was popular with nudists in the early days. There is still bit of the old Phangan vibe in some of the bungalow resorts and you can get far away from the maddening crowd in Haad Rin, whilst still being able to pop in for a midnight visit to 7-Eleven.

Coco Hut Village has an excellent selection of bungalows and guesthouse rooms with either double or twin beds, air-con or fan. The most basic fan guesthouse rooms are basic with no private bathroom, but suitable for budget travellers. The Broad Walk bungalows are situated back from the beach and include private bathroom and hot water. Standard air-con or fan bungalows near the beach with seaviews also include private bathroom, balcony and hot water. The superior air-con bungalows near the pool have TV, hot water and mini-bar. The hillside bungalows are a different style, almost like a country cottage with long wooden walkways connecting them. Finally, the deluxe air-con directly overlooking the swimming pool have amazing faciltilies including the usual TV/DVD, hot water and mini-bar, there is also a large lounge area with comfy seating and furnished throughout with smooth stained wood.

Other facilties at Coco Hut include the beachfront restaurant and lounge area, serving a great selection of yummy Thai and international food and plays regular recent movies from an impressive library. The beach bar plays the music throughout the day and evening, so if you fancy chilling out to some grooves and tunes then sit back and relax with a beer or a freshly prepared cocktail.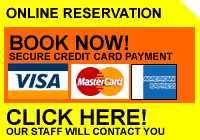 FACILITIES
Motorbike Rental
Jeep Rental
Travel Booking
Internet and E-mail
Laundry Service
Safety Deposit Box at Front Office
Restaurant serving Thai and Western cuisine
Beachfront Bar
Exclusive Beachfront Suite
International Telephone/Fax
ACTIVITIES
Fishing Trips
Island Boat Trips
Scuba Diving
Snorkelling
Kayaking
Waterfalls and Jungle Trekking
Beach Volleyball
Snooker
Badminton