Morning Star Resort is conveniently situated on Ban Khai beach in between Thongsala and Had Rin - less than 4km from the Full Moon Party. Get the best of both worlds in a comfortable atmosphere on a quieter beach enjoying the beachfront swimming pool overlooking stunning sunset views, while the bright lights and bustling streets of Had Rin and the Island's capital are only a short ride away.

The recently constructed resort has been finished to extremely high standards and the result is a beautifully designed and furnished traditional Thai style environment. Private bungalows are set among lush tropical gardens and all the buildings are positioned to give a great feel of natural space. There is a variety of Air-Con and Fan accommodation at excellent prices and all the facilities you need to make your stay in paradise absolutely perfect.

Ao Ban Khai has long been a favourite of many returning visitors to Koh Pha Ngan and is part of the long unbroken stretch of white sand beach that runs from Ban Khai right the way up to Thongsala. Most of the land along the coastline has been farmed as coconut plantation and the area takes on a dreamy desert island feel with palms leaning in to the calm emerald sea. Ao Ban Khai has a broad beach that is protected from the high seas by the rich coral reef that follows the south and west coastline, providing a haven for beautiful and harmless marine life and a great place to go snorkelling. The resorts are generously spaced on the long beach, making it easy to find solitude; and there are also a few beach bars if you fancy a drink under the stars. The fishing village of Ban Tai has some great places to try the local seafood and there are even a couple of party venues if you fancy dancing the night away on the white sand beach.

At Morning Star Resort all of the rooms are less than a year old and are set amongst lush tropical gardens that have been tastefully designed to create a wonderful open natural environment. There are three styles to choose from at various rates to suit every traveller's budget; ranging from luxury beachfront suites to stylish bungalows and island style huts for the authentic Koh Phangan feel. All of the rooms have en suite bathrooms and are fully fitted and furnished for your comfort. The resort is well planned with plenty of space in between the bungalows to ensure total privacy and all of the rooms look out over the bay with spacious balconies and stunning sunset sea views.

The restaurant at Morning Star is set amongst beautiful tropical gardens and is open plan so that you can enjoy the wonderful natural views out to sea. You can relax and take your meal Thai style on a traditional raised seating area or sit on a conventional table and chairs for that special candlelit dinner. The extensive yet reasonably priced menu provides a great variety of delicious traditional Thai and Western cuisine; all cooked to perfection in a clean and professional kitchen. There is a daily selection of fresh locally caught seafood and regular beachside barbeques - the best way to enjoy the fruits of the Gulf. There is also a cocktail bar in the restaurant where you can unwind and relax with a delicious cocktail or cold beer after a hard day on the beach.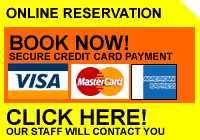 FACILITIES
Jeep Rental
Motorbike Rental
Travel Booking
Free Wi-Fi internet
Laundry Service
Safety Deposit Box
Restaurant serving Thai and Western cuisines
Swimming Pool
International Telephone/Fax
ACTIVITIES
Fishing Trips
Island Boat Trips
Scuba Diving
Snorkelling
Kayaking
Waterfalls and Jungle Trekking
Beach Volleyball
Badminton