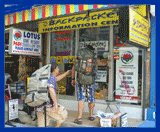 Created 'by backpackers for backpackers'! The concept was started by Bambi, a guy originally from the UK, who has extensive backpacking knowledge of Asia and in particular Thailand (where he now resides). Having travelled extensively through Asia, Scandanavia, Europe, Africa, Middle East, South America, Australasia, North America & Canada he is a very experienced backpacker.
Being a certified PADI Divemaster he has gained alot of experience diving in Thailand (Koh Tao, Koh Phangan & Andamen Sea) as well as Malaysia (Perithian & Tioman islands), Indonesia (Bali), Australia (Barrier Reef)and South Africa (Sodwana Bay), With a vast knowledge of diving in the Gulf of Thailand, choosing the right dive shop has been made easy as bookings for two of the most professional PADI dive centres in the Gulf can be made here at Backpackers Information Centre.

With a great team of people from our partner business Backpackers Information Centre on Koh Phangan supporting the website we can assure you the best in customer service and backpacking knowledge!