Ananda Yoga & Detox Center
Ananda Yoga & Detox Center offers all-inclusive Yoga Teacher Trainings, all-inclusive Yoga Retreats, drop-in classes, and Detox Programs at affordable prices. Ananda's peaceful facilities on Hin Kong beach include accommodation, massage, salt water pool, herbal steam sauna, and a restaurant serving delicious vegetarian and vegan food. Guests enjoy Ananda's serene environment and stunning beach sunsets. Ananda's all-inclusive Yoga Teacher Trainings thoroughly explore the theory, practice and philosophy of yoga, teaching methods and more under the professional guidance of experienced international instructors. Ananda is one of the island's foremost Detox Centers having performed over 11,000 detox programs over the past 12 years. 3.5, 7.5 and 11 day programs use a proven purification method with additional parasite removal, anti-Candida and liver/gallbladder flush options.
Restaurant: 8:30am-8pm
Sauna/Pool: 2:30pm-6pm
Classes: All levels welcome!
Alignment Flow Yoga (8-9:30am; Mon-Sat)
Gentle Hatha Yoga (4:30-6pm; Mon-Sat)
FREE Morning Meditation (7-7:45am; Mon/Wed/Fri)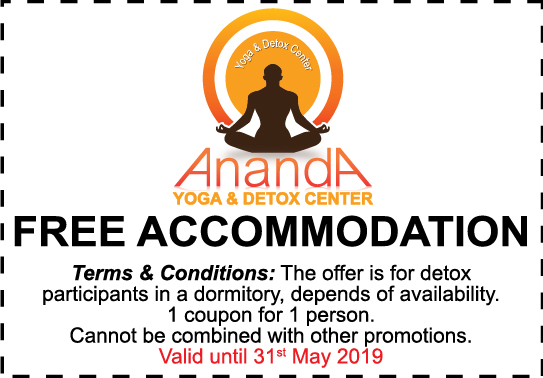 There are no upcoming events at this time.